Great Waves waterpark
Enjoy a great day of summer at Great Waves Waterpark!
Great Waves Waterpark will be open this weekend from 11am-6pm - $10 for everyone ages 2 and up and includes mini golf this weekend only.
Please be advised that the play pool, splash pad, and slide towers will be closed this weekend and admission capacity will be limited.
Bring the family for a full day of sliding and splashing at Great Waves Waterpark, located in Alexandria, Virginia.
Know Before You Go
While you are enjoying our aquatic facilities, you can feel secure knowing that you are being closely monitored by licensed aquatics staff. "Safety is golden" is the mantra of our staff, who take their jobs seriously and hold the safety of you and your family in the highest regard. They are regularly tested for equipment readiness, situation recognition and professionalism. Swim with care, but do so knowing that our team of guards is ready to assist you should the need arise. Enjoy your day at our waterparks!

WATERPARK RULES & REGULATIONS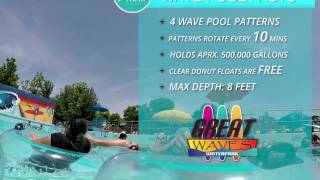 Contact
Alexandria, VA 22304
United States
T 703-960-0767
E Cameron@NVRPA.org

Connect With Us
1