Great Waves waterpark
Enjoy a great day of summer at Great Waves Waterpark!
OPERATING STATUS:
GREAT WAVES WATERPARK WILL NOT BE OPENING FOR THE 2020 SEASON DUE TO COVID-19.
Due to the COVID-19 Closure, your valid Annual Waterpark Pass will be extended for the equivalent of a summer season (approximately 90 days) to account for the loss of the entire 2020 summer season. Plus, we will throw in an extra month as a way of saying Thank You for your support during this pandemic. Pass extensions are provided based on the length of waterpark closure and pass purchase date. You will not lose any of the value you paid for your pass. We wanted nothing more than to welcome you and your families back to the waterparks where lifetime memories are made. If you prefer a refund or credit to your account, please email us at novaparks@nvrpa.org by June 15, 2020.  Refunds and credits will be based on a prorated dollar amount determined by purchase date. Thank you and we look forward to seeing you again Memorial Day Weekend 2021!
Know Before You Go
While you are enjoying our aquatic facilities, you can feel secure knowing that you are being closely monitored by licensed aquatics staff. "Safety is golden" is the mantra of our staff, who take their jobs seriously and hold the safety of you and your family in the highest regard. They are regularly tested for equipment readiness, situation recognition and professionalism. Swim with care, but do so knowing that our team of guards is ready to assist you should the need arise. Enjoy your day at our waterparks!

WATERPARK RULES & REGULATIONS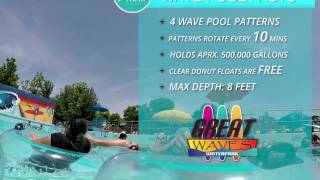 Contact
Alexandria, VA 22304
United States
T 703-960-0767
E Cameron@NVRPA.org

Connect With Us
1