Bull Run Festival of Lights
Drive through 2.5 miles of festive light displays and visit the holiday village.
Every year from Thanksgiving until just after New Year's Day, you can experience the Bull Run Festival of Lights, 2.5 miles illuminated by holiday light displays. Drive the festival route from the comfort of your car; turn off your headlights and just follow the magical glow. 
Want to avoid the crowds? Fridays, Saturdays, and Sundays are our busiest nights. Please take advantage of the Monday through Thursday discounted price and avoid a long wait. Look for our special online coupon in the downloads section below!
Opening Hours
November 6, 2020-January 10, 2021
Monday - Thursday
5:30 p.m. to 9:30 p.m.
Friday - Sunday and Holidays
5:30 p.m. to 10:00 p.m.
(Holidays include November 28, December 24, 25, 31, and January 1).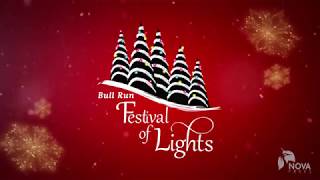 Contact
Bull Run Festival of Lights
Centreville, VA 20121
United States
T 703-631-0550
E bull_run@nvrpa.org

Connect With Us
1