Ice & Lights The Winter Village at Cameron Run
Experience the new winter wonderland at Cameron Run!
Glide across the ice at Ice & Lights, The Winter Village at Cameron Run in Alexandria, Virginia. The waterpark is transformed mid-November through February into a winter wonderland with an ice rink, beautifully lit photo ops, music and more! Grab a slice of  pizza and donuts and enjoy the winter village.
Be sure to purchase skating tickets online to secure your spot on the ice, especially for peak nights, weekends and holidays!
Opening Hours
2020 hours

November 20 - January 3, 2021 nightly 5-10pm
January 9 - February 28, 2021 Saturday, Sunday, and Holidays 11am-5pm (skating only)
Fees
 
Ice Skating
$7.00*
Skate Rentals
$4.00*

Under 2
(skate rental not included)

FREE

 
**Prearranged Groups of 20 or more (Nov. 20 to Dec. 10)
Monday - Thursday, Non-Holiday
$12.00/per person
**Prearranged Groups of 20 or more (Jan. 9 to Feb. 28)
Saturdays, Sundays, Holidays 
$10.00/per person

All-You-Can-Skate Pass (Jan. 9 to Feb. 28 - $248 value)

 
VIP - Village, Skating & Skate Rental (available Nov.15 - Jan. 5)
$18.00
General Village Admission
All Ages
$7.00
* Please note: Village Admission required for ice skating November 20 - January 3rd.
**DISCOUNTS FOR PREARRANGED GROUPS OF 20 OR MORE
Pre-arranged groups of 20 or more paying visitors can enjoy significant savings with our group rates! Group rates include skate rental, and skating time! One payment for the group is required to receive these discounted prices. A single payment may be paid by cash, check (made payable to NOVA Parks), Visa, Master Card, and American Express. This payment is made the night of the group visit, and all tickets will be provided to the person making the payment who will be responsible for handing them out to the group.
Please make the required group reservations at least 48 hours in advance by emailing cameron@nvrpa.org or calling 703-960-0767.  
Group rates cannot be combined with other discounts.
Features & Attractions
About the 2019 Show…
NOVA Parks is proud to introduce our newest winter event, Ice & Lights- The Winter Village at Cameron Run. This first year, the show starts on November 15th and runs nightly through January 5th. From January 6-February 29th, the ice rink and Slice & Ice food venue will be open Friday-Sunday, but the village will be closed. Since this is our first year, we are continuously trying new features, and working to improve your experience! We hope you enjoy the show! Did you know we also offer Bull Run Festival of Lights and Meadowlark's Winter Walk of Lights? Be sure to visit all three!
The Ice Rink
Take a spin on the ice under the twinkling lights! Novice and experienced skaters alike will enjoy this great, winter experience. New to skating? FREE skate aids are available, first come, first served. Please note that on peak nights, the ice is resurfaced hourly. Skate time may be limited to one hour on peak nights.
Bling & Things
Our gift shop offers a variety of festive, light up jewelry, hats, glasses, wands, and more! Be sure to also check out our beautiful commemorative ornament. We offer a variety of stuffed animals and toys, too! Bling & Things is a great place for holiday shopping!
Photo Spots
One of the unique features of Ice & Lights Winter Village are the photo ops. Take a pic, post to social media, and keep those memories! Please do not climb on or touch the displays or walk past the post and ropes. This is for your safety! Photo ops include a giant wreath, 20 foot walk thru tree, beautiful design stars, reindeer family, ice skaters, and more!
Slice & Ice
Bring your appetite! Slice & Ice offers delicious warm treats like pizza (by the slice or whole pies), delicious donut holes, hot chocolate, and more! Be sure to grab a souvenir mug that lights up!
Children's Area
Weather permitting, a letters to Santa station is set up, along with some fun carnival games in the Winter Village perfect for little ones. Take a look around to see if you can spot the elf hiding at Ice & Lights. If you find him, snap a pic and post to Instagram or Facebook for a chance to win some great prizes!
Igloos
Getting chilly? Warm up in an igloo! These heated igloos are a great place to take a quick break. Be sure to limit your time to 10-15 minutes maximum, to allow other guests to use the igloos.  Igloos available during the Winter Village only.
Mini Golf
While the mini golf is full of beautiful lights, please do not walk on the mini golf course. Please enjoy the beauty of nature from the walking path only.
Want more?
Cameron Run Regional Park has something for everyone, year-round. Mini golf and batting cages opens mid-March-October and Great Waves Waterpark is open Memorial Day to Labor Day. We hope to see you year round!!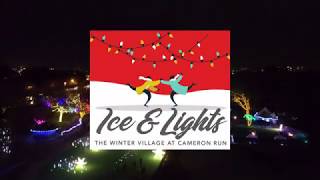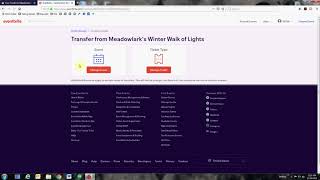 Contact
Ice & Lights: The Winter Village at Cameron Run
Alexandria, VA 22304
United States
T 703-960-0767
E Cameron@NVRPA.org

Ice & Lights Manager: Reid Nebergall
1