School Programs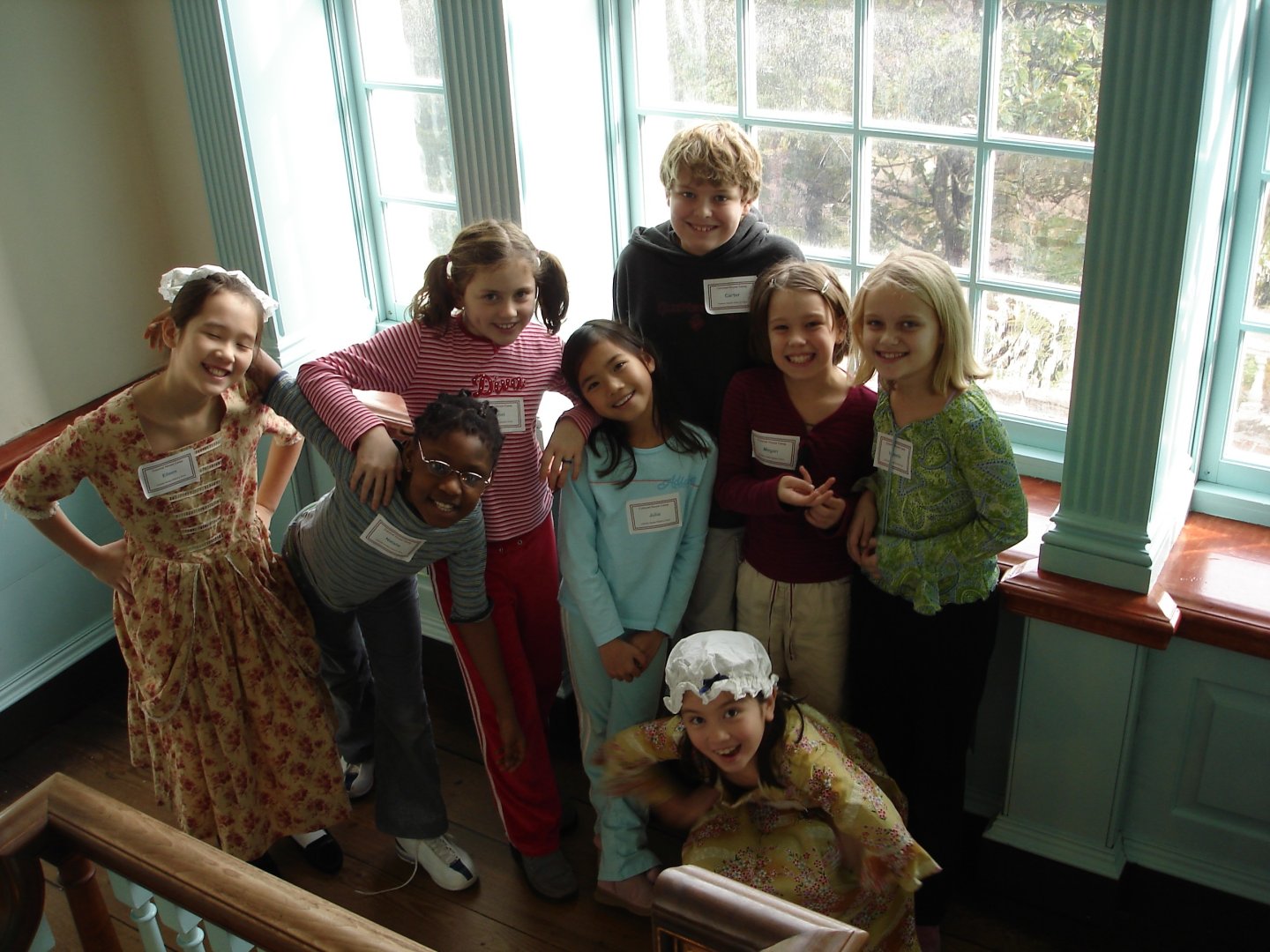 Your students will step into the past when they visit the Carlyle House. Learn about the events that led up to the American Revolution and Carlyle House's involvement. Or see objects recovered through archaeology which reveal the intimate details of everyday life at Carlyle House during the 18th century. Each program meets Virginia Standards of Learning.
Programs
Grade K-4 - History in a Haversack
On this tour of discovery, students will compare and contrast their lives with those of colonial children using primary sources and material culture in a hands-on and interactive setting. Each student will be issued a haversack containing objects that will be used to illustrate the story of the Carlyle family, their slaves, and servants. (SOL: K.2, 1.1, 3.6, VS.1/US.1, VS.4)
Download the Teacher Resource Packet before booking your tour:
History in a Haversack Packet
Grade 3-6 - Discovery Through Trash
During this one hour immersive experience students handle and discuss 18th century artifacts uncovered in the excavation of the of the Carlyle House. Students will investigate the objects use and purpose within the Carlyle Family and learn how artifacts found in everyday household trash, paired with 18th century primary source documents, opens a window into the lives of people in the past. The remainder of the program is spent touring the historic house and discussing where the artifacts may have been found and how they would have been used by the Carlyle family and their slaves. (SOL: VS.1, VS.4, USI.5c)
Download the Teacher Resource Packet before booking your tour:
Discovery Through Trash Packet
Grade 4-6 - Road to Revolution: The Causes of the Revolutionary War
On this highly interactive tour students will learn the causes of the Revolutionary War as they are taxed, insulted and denied their rights. By handling objects and examining primary source documents, students will put themselves in the colonists' shoes and learn why they broke away from Great Britain. Along with understanding the issues of dissatisfaction leading to the war, students will learn why the colonists were able to win. (SOL: USI.6, VS.5, VUS.4)
Download the Teacher Resource Packet before booking your tour:
Road to Revolution Packet
Ready to Reserve?
Reservations are required for all our programs. Please submit this form: School Tours Reservation Form
If you have any questions please contact the Education and Outreach Assistant at 703-549-2997.
Have a group of 30 or more?
Visit multiple Alexandria sites while you're in town! We can arrange visits to other sites within walking distance to Carlyle House. Popular choices include the Alexandria Archaeology Museum, Gadsby's Tavern Museum, and The Lyceum. Each site offers one-hour programs. This is perfect for groups who wish to see more of Old Town or who would like to bring more than 20-30 students on the field trip. For more information please visit the Office of Historic Alexandria Site or contact the Museum Education Specialist at Alexandria Archaeology or call 703-838-4399 at least three weeks in advance.
Fees
School Tours are free for all schools located in the NOVA Parks member jurisdictions, which include the City of Alexandria, City of Fairfax, City of Falls Church, Arlington County, Fairfax County, and Loudoun County. Schools outside of the city have a charge of $2 per student.
Bus money stipends are available! Thanks to the generosity of the Friends of Carlyle House a stipend is available to cover the cost of the school buses for Title I schools visiting the Carlyle House. Please inquire with our Education and Outreach Assistant for more information.