Park History Interpretive Series: The Family of Henry and Jemima Harris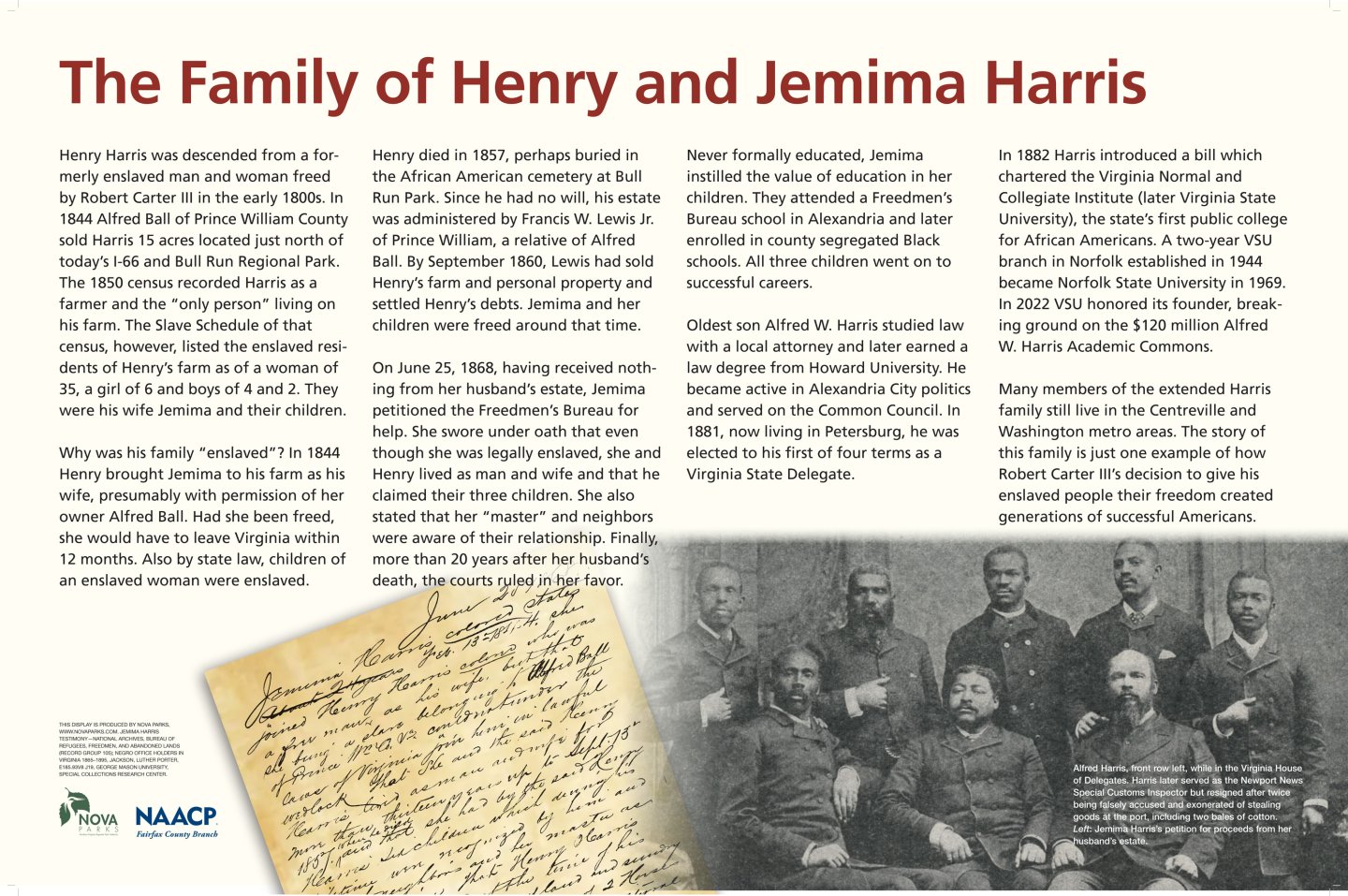 Henry Harris was descended from a for­merly enslaved man and woman freed by Robert Carter Ill in the early 1800s. In 1844 Alfred Ball of Prince William County sold Harris 15 acres located just north of today's 1-66 and Bull Run Regional Park. The 1850 census recorded Harris as a farmer and the "only person" living on his farm. The Slave Schedule of that census, however, listed the enslaved resi­dents of Henry's farm as of a woman of 35, a girl of 6 and boys of 4 and 2. They were his wife Jemima and their children.
Why was his family "enslaved"? In 1844 Henry brought Jemima to his farm as his wife, presumably with permission of her owner Alfred Ball. Had she been freed, she would have to leave Virginia within 12 months. Also by state law, children of an enslaved woman were enslaved. 
Henry died in 1857, perhaps buried in the African American cemetery at Bull Run Park. Since he had no will, his estate was administered by Francis W. Lewis Jr. of Prince William, a relative of Alfred Ball. By September 1860, Lewis had sold Henry's farm and personal property and settled Henry's debts. Jemima and her children were freed around that time. 
On June 25, 1868, having received noth­ing from her husband's estate, Jemima petitioned the Freedmen's Bureau for help. She swore under oath that even though she was legally enslaved, she and Henry lived as man and wife and that he claimed their three children. She also  stated that her "master" and neighbors were aware of their relationship. Finally, more than 20 years after her husband's death, the court ruled in her favor. 
Never formally educated, Jemima instilled the value of education in her children. They attended a Freedmen's Bureau school in Alexandria and later enrolled in county segregated Black schools. All three children went on to successful careers. 
Oldest son Alfred W. Harris studied law with a local attorney and later earned a law degree from Howard University. He became active in Alexandria City politics and served on the Common Council. In 1881, now living in Petersburg, he was elected to his first of four terms as a Virginia State Delegate. 
In 1882 Harris introduced a bill which chartered the Virginia Normal and Collegiate Institute (later Virginia State University), the state's first public college for African Americans. A two-year VSU branch in Norfolk established in 1944 became Norfolk State University in 1969. In 2022 VSU honored its founder, break­ing ground on the $120 million Alfred W. Harris Academic Commons.
Many members of the extended Harris family still live in the Centreville and Washington metro areas. The story of this family is just one example of how Robert Carter Ill's decision to give his enslaved people their freedom created generations of successful Americans.