Park History Interpretive Series: African American Cemetery at Bull Run Park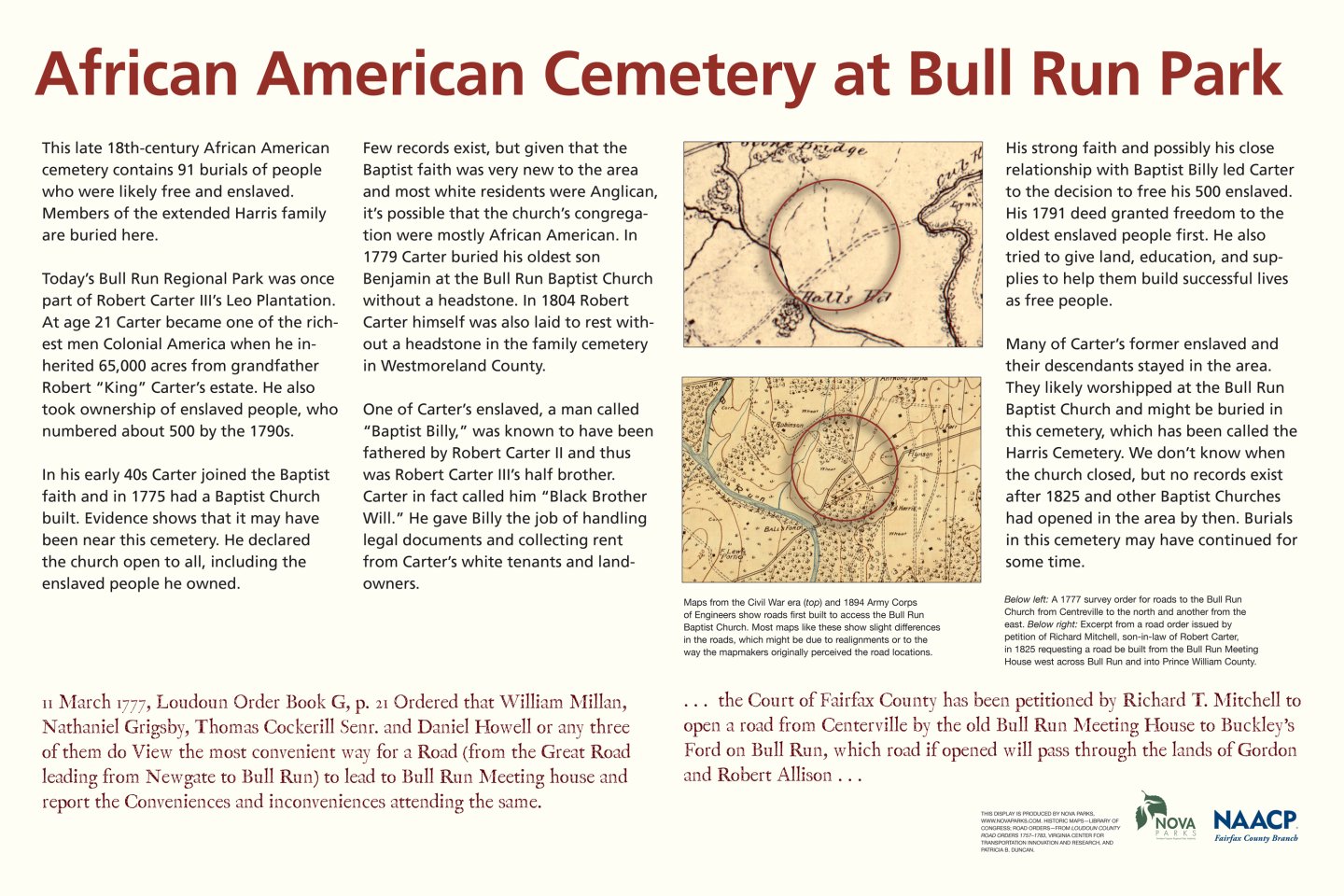 This late 18th-century African American cemetery contains 91 burials of people who were likely free and enslaved. Members of the extended Harris family are buried here.
Today's Bull Run Regional Park was once part of Robert Carter Ill's Leo Plantation. At age 21 Carter became one of the rich­est men Colonial America when he in­herited 65,000 acres from grandfather Robert "King" Carter's estate. He also took ownership of enslaved people, who numbered about 500 by the 1790s. 
In his early 40s Carter joined the Baptist faith and in 1775 had a Baptist Church built. Evidence shows that it may have been near this cemetery. He declared the church open to all, including the enslaved people he owned. 
Few records exist, but given that the Baptist faith was very new to the area and most white residents were Anglican, it's possible that the church's congrega­tion were mostly African American. In 1779 Carter buried his oldest son Benjamin at the Bull Run Baptist Church without a headstone. In 1804 Robert Carter himself was also laid to rest with­out a headstone in the family cemetery in Westmoreland County. 
One of Carter's enslaved, a man called "Baptist Billy," was known to have been fathered by Robert Carter II and thus was Robert Carter Ill's half brother. Carter in fact called him "Black Brother Will." He gave Billy the job of handling legal documents and collecting rent from Carter's white tenants and land­owners. 
His strong faith and possibly his close relationship with Baptist Billy led Carter to the decision to free his 500 enslaved. His 1791 deed granted freedom to the oldest enslaved people first. He also tried to give land, education, and sup­plies to help them build successful lives as free people. 
Many of Carter's former enslaved and their descendants stayed in the area. They likely worshipped at the Bull Run Baptist Church and might be buried in this cemetery, which has been called the  Harris Cemetery. We don't know when the church closed, but no records exist after 1825 and other Baptist Churches had opened in the area by then. Burials  in this cemetery may have continued for some time.