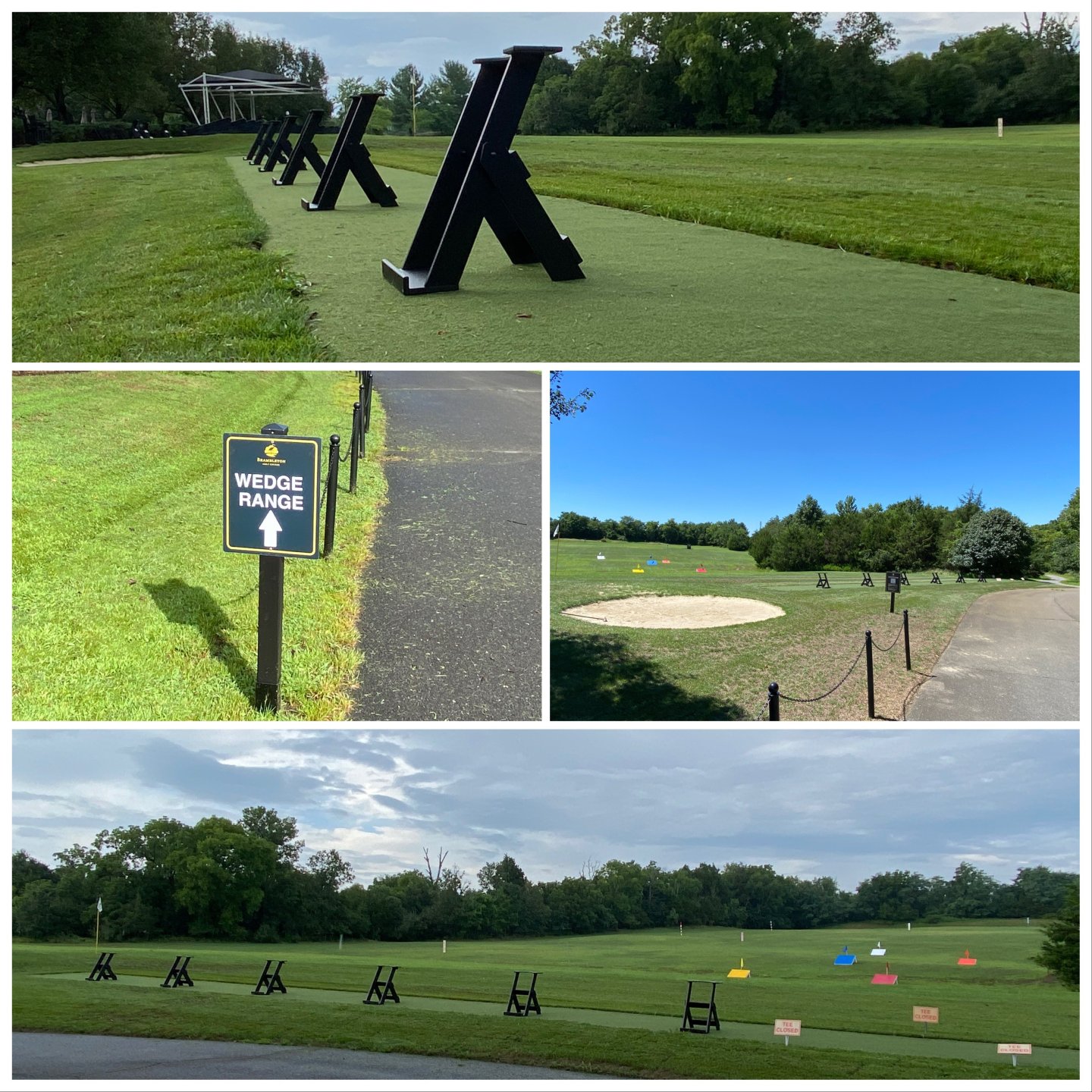 Our practice facilities include areas to practice every shot. Facilities include an 18-bay driving range, wedge range, practice bunker, chipping green, and putting green. Since 2020, significant renovations and improvements have been made to our practice facilities including new premium mats, new concrete and patio, furniture, renovated bunker, and Wedge Range!
Driving Range: 18-Bays with premium mats that offer a realistic feel. Striped barber poles and yardage markers are located at various yardages ranging from 50-250 yards. Kick back and enjoy a beverage on the new patio!
Wedge Range: 80-feet of premium artificial tee line offers additional hitting bays to practice wedge shots of 30-80 yards. Custom-built 4'x4' color targets with flags to practice those tough, short wedge shots. Irons may also be used at this location for shots of up to 200 yards.
Wedge Range Target Challenge:
• Start with a small bucket.
• 2 points – Hit the target on the fly or on a bounce.
• 1 point – Land and rest your ball within a pin's length (8ft).
• Track your score and progress!
Bunker: A renovated practice bunker is located next to the driving range and offers you a chance to improve your sand game.
Chipping Green: A full size chipping green offers you a chance to practice your chipping and pitching off tight lies and out of the rough.
Putting Green: A multi-tiered, 8,000 square foot putting green.
All practice facilities open 30 minutes prior to the first tee time (weather permitting). The driving range closes at sunset and the last bucket of range balls is sold 30 minutes before sunset. Some or all practice facilities may close unexpectedly during inclement weather events.
Pricing:
• Small Bucket: $7.00
• Large Bucket: $10.00
Range Packages:
• $120 Value Package: $100.00
• $325 Value Package: $250.00
• $700 Value Package: $500.00
• $1,125 Value Package: $750.00
Maintenance Schedule: During the growing season (estimated March-November), the Driving Range and Wedge Range close at 4:00pm on Wednesday afternoons and reopen Thursday mornings at 10am due to maintenance. The putting and chipping greens open at 10am on Thursdays due to weekly course maintenance.
Practice facility updates are provided on the Brambleton Golf Course App daily. To check on the latest conditions, download our app today!