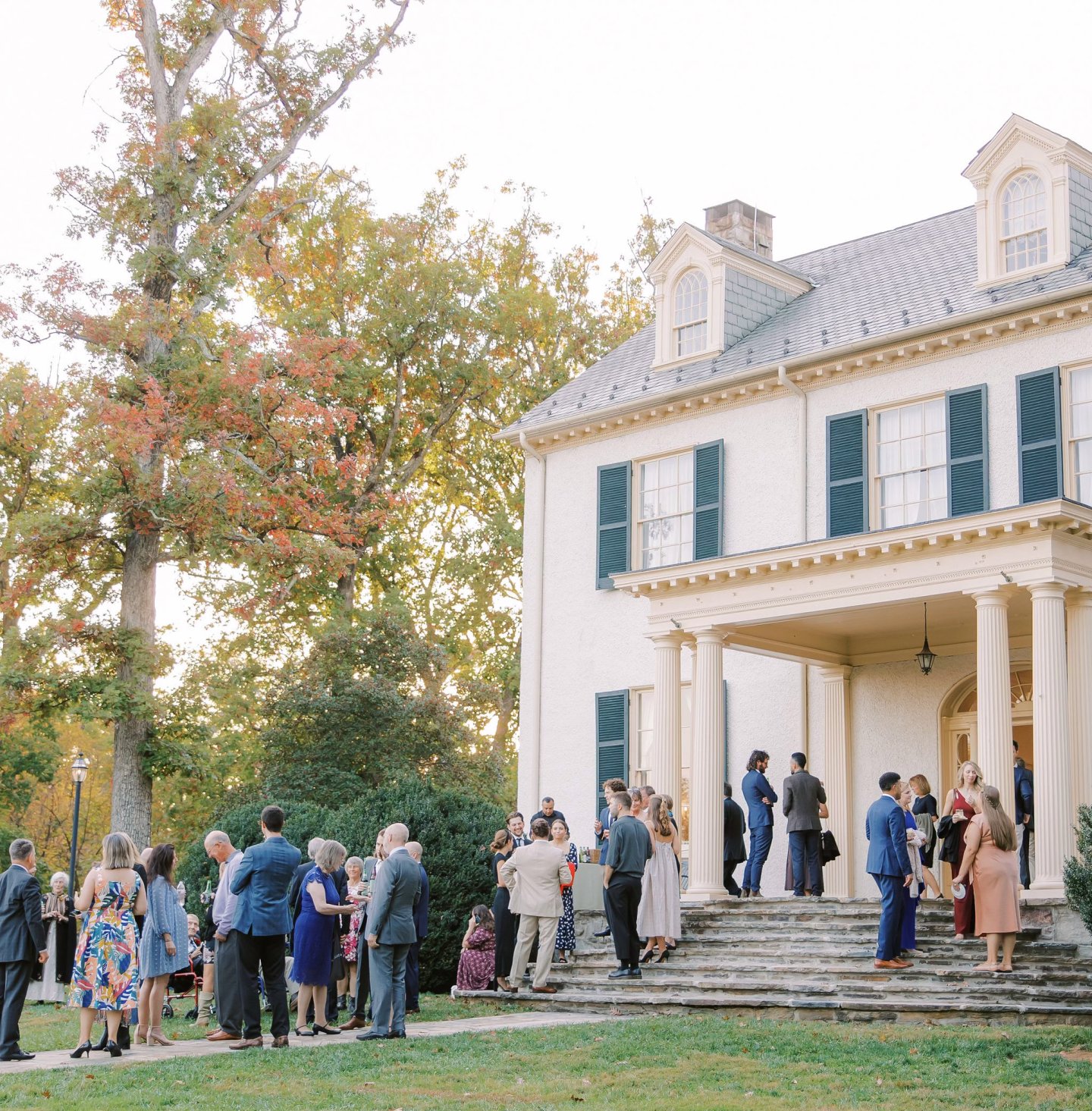 Photo credit: Maddy Williams Photography
VENUE RENTAL INCLUDES THE FOLLOWING:
Rental includes 8-hour venue rental of Manor house, Gardens, and Tent

Easy access for vendor load in

Year-round rental availability

Great location outside of downtown Leesburg on a secluded nature preserve

Gold Chiavari chairs for indoor use and tables of various sizes 

White folding resin chairs for outdoor use

Set-up and breakdown of all tables & chairs before and after event

Use of venue arch for ceremony or photo opportunities

Banquet Captain at-your-side during your event

Indoor ceremony plan for inclement weather 

Complimentary ceremony rehearsal based on availability

Miscellaneous décor and equipment, including but not limited to, floor easels, card boxes, decorative cake stands and cake cutting set

Email

rust@nvrpa.org

to see our entire amenities list
Frequently Asked Questions
What is included? 
Clients have access to the Manor House including the Foyer, Parlor, Dining Room, Butler's Pantry, and Library; the grounds including the Portico, gardens, and area around the House; and the tented event facility.  The additional Hospitality Suites rental grants access to two upstairs Suites and the detached cottage starting at 10am the day of the event. Your rental includes chairs and tables.
What is the maximum capacity?
The Manor House at Rust has a seated capacity of 65 people split between the Parlor & Dining Room. The tented event site can hold 200 seated guests.
What is the event time block for the rental?
Your rental includes an 8-hour minimum block of time. The 8 hours is defined with the first and last hour dedicated to set-up and clean-up. Music must end by 11pm and all event activities including cleanup must be finished by midnight. Event time-blocks are generally 3pm to 11pm or 4pm to 12am but may begin prior to 3pm with approval.
May I hold a date and is there a fee for doing so?
You may place a complimentary hold on a date free of charge for 7 days.
What is the booking process?
After the hold process, you may proceed to contract. Upon contract signing, half (50%) of the rental plus 6% sales tax is due. The remainder of your rental and tax, plus a refundable $1,000 security deposit, is due 30 days before your event.
What is the cancellation policy?
In the event that the renter cancels the reservation 12 months or more prior to the rental date, the entire deposit is refundable, less a $250 administrative fee. In the event that the Renter cancels the reservation less than 12 months prior to the rental date, all payments are forfeited with the exception of the security deposit ($1,000). If the canceled rental date is re-booked, all deposits will be refunded, less a $250 administrative fee, provided that the rebooking is at the same rate. If the rebooking is for a lower rental, then the refund will be less.
Do I need a Day of Coordinator?
Yes, events need someone outside of the wedding party to help plan the ceremony, run the processional, coordinate with vendors and organize/place décor items. The Rust Manor House staff will be present to have the house and grounds ready for your event but cannot fill the role of wedding coordinator.
What are "In Jurisdiction" and "Non Jurisdiction"?
"Jurisdiction" refers to clients or their parents who reside in NVRPA Jurisdictions and are therefore eligible for a discount. Jurisdictions include Arlington, Fairfax & Loudoun Counties; Cities of Alexandria, Fairfax & Falls Church. "Non-Jurisdiction" refers to clients who reside outside of NVRPA Jurisdictions and are not eligible for a discount. 
What are the catering options?
Catering arrangements must be handled by Rust Manor House's catering department, Great Blue Heron Catering (NOVA Parks) for events booked 120 days or more in advance. Approved outside caterers can be used for events held Monday through Thursday, excluding holidays.
What happens in cases of inclement weather?
If severe weather occurs during events scheduled at the tented event site, activities can be moved inside the Manor House for guest safety. Wedding ceremonies of up to 75 can take place in the Manor House and above that in the tent.
Does Rust Manor House allow storage before or after my event?
Limited storage is available with the approval of event management.
Are dogs allowed at Rust?
Yes, dogs are allowed on premises. They must be leashed and always supervised.
Are there any restrictions on alcohol?
Alcohol is permitted within your rental area only. The renter agrees to obtain all alcohol service and product through Great Blue Heron Catering. Bar service is 5 continuous hours unless more time is purchased. Last call is 45 minutes prior to the end of the event and last served is 30 minutes prior.
Are there any restrictions on music?
Noise must be in compliance with Loudoun County noise ordinances, and all entertainment and amplified sound must be kept at a reasonable decibel level.
Are candles permitted?
Votive candles and candles enclosed by globes, hurricanes, or something similar higher than the flame are permitted. Locations of candles must be approved in advance. Candles are not allowed outside except as part of a ceremony.
Can I have my rehearsal at Rust the day before my event?
Yes, we allow access to the first floor of the Manor House and the grounds for a rehearsal from 10am to 12pm the day before. Please note that if there is another scheduled event the day after yours, they may also choose to hold their rehearsal, on-site, on the day of your event.