Groups
Got a group of 20 or more? Visiting the park Monday-Friday (non-holiday)? Check out our group rates and fill out the form below to request your reservation today. Please note that some dates fill up fast. Please make your request as early as possible to secure your date. Your reservation is not held until you receive your confirmation. We are unable to accommodate groups once capacity for group reservations are met. Payment is required at the time of your arrival in one form of payment. Billing options are available for government agencies only. .
Pricing               
Government groups from the counties of Fairfax, Arlington, Loudoun, and the cities of Fairfax, Alexandria, and Falls Church $6.00
Non-government groups from the counties of Fairfax, Arlington, Loudoun, and the cities of Fairfax, Alexandria, and Falls Church   $7.50
Non-Jurisdiction Groups $8.00
Group Meal Plans
Pirate's Cove Waterpark offers group meal menus available for scheduled groups of 20 more guests. Payment is due at the group's arrival and is paid with admission. Applicable tax applies. 
$6 Kid's Meals: Includes any standard kid's combo meal options with a side jr. fries and a choice of fountain drink, bottled water or juice.
5 piece chicken nuggets
Hotdog
Uncrustable
$8 Adult Meals: Includes any standard adult's combo meal options with a side of regular fries and a choice of fountain drink or bottled water. 
10 piece chicken nuggets
Double hotdog
To reserve your group meals, email waterparkgroups@nvrpa.org or call 703-352-5900.
CELEBRATE YOUR BIG SPLASH BIRTHDAY
Our waterparks are a great place to host your child's next birthday party in an exclusive party area!  Take a moment to check out what our party packages offer and don't forget to print your free invitations once you book with us. *Please note that dates and times fill up fast.
Pirate's Cove Waterpark offers two birthday areas for Big Splash parties. The Crow's Nest, Pirate's Cove's original birthday facility, is located within close proximity to the pool and Captain's Galley concessions area, on a raised wooden platform extending off the pool deck.  Blackbeard's Cay, the newest birthday area, is located next to the giant water slides and offers a more private setting.  Both facilities offer adequate seating and a shade structure to keep you and your guests cool on a great summer day.
BIG SPLASH PARTY AT PIRATE'S COVE– Available 7 days a week during waterpark season only
Maximum 25 – Minimum of 10 must be paid at time of reservation
Monday-Thursday receive 10% off your basic party – does not apply to add-ons.  Not valid on holidays.
Times: 
12:30 pm to 2:30 pm
3:30 pm to 5:30 pm
$25 per child, includes the following:
Admission to Pirate's Cove Waterpark ALL DAY!
Mini-Golf
Private party area for 2 hours
Free Chaperone for each guest under 12 years old (food not included)
Personal party assistant for duration of party
Gift/Cake cart to use during party
Special gift for birthday child
Valuable coupon for all birthday guests
2 slices of pizza per guest
Drinks – soda or juice
Ice cream cups
Plates, napkins, utensils
Free printable invitations
Add-on additional pizzas, Dippin' Dots and other items
Pizza $12 each
Ice Cream $2 each
Drink Pitcher $4 each
Dippin' Dots $3.50 each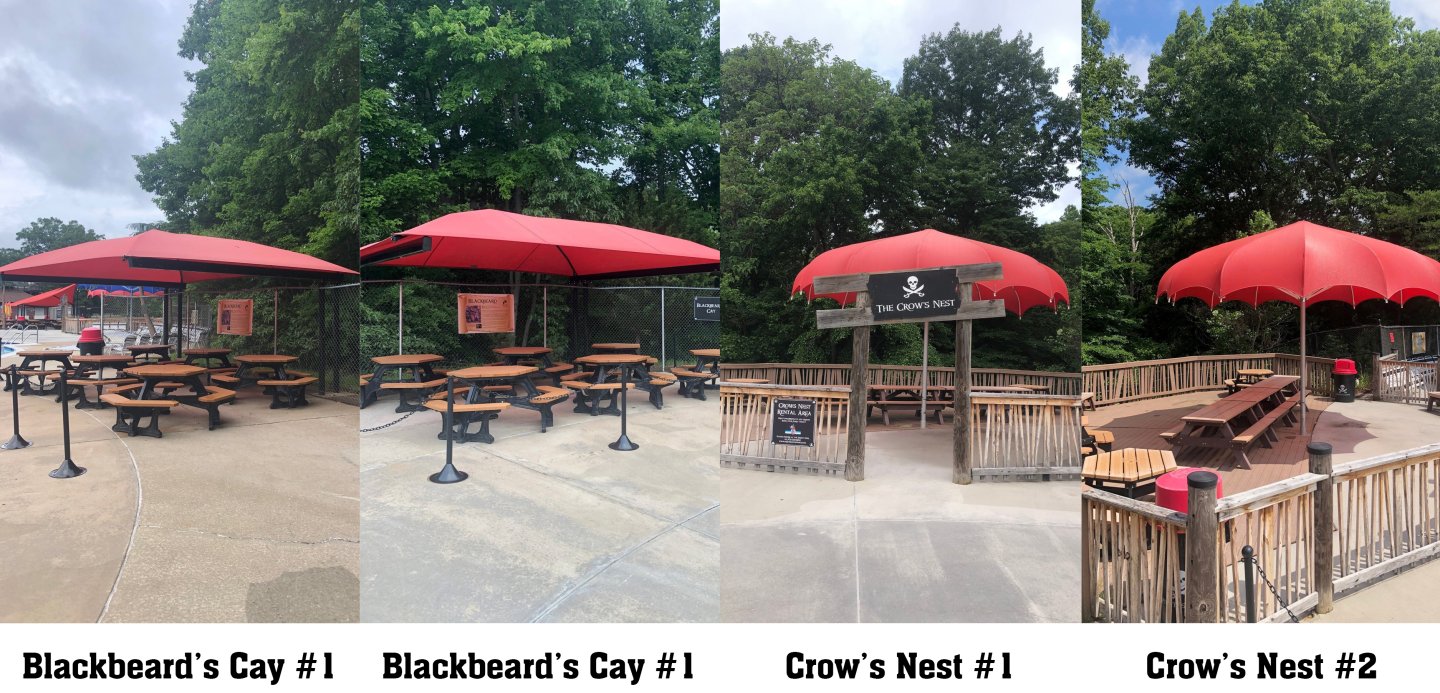 BIRTHDAY RESERVATION RULES
Deposit to cover minimum of ten (10) guests must be paid at time of reservation. Your reservation is not final until the full deposit has been received.
No outside food or beverage, except birthday cake/cupcakes and bottled water, may be brought in to the waterpark.  We are not responsible for holding or storing cakes.
Additional non-party guests will be charged general pool admission. Additional food and beverage may be purchased.
In case of inclement weather or waterpark closure, party may be rescheduled to another available date at no charge.
Cancellations or rescheduling more than 2 weeks prior to event shall incur a $20.00 fee. Cancellations or rescheduling (unrelated to weather) less than two weeks prior to event will result in loss of half of deposit. Cancellations or rescheduling within 48 hours of party will result in loss of deposit.
In the event of cancellation due to facility closure, a full refund will be made, or the party may be rescheduled to another open date. 
Package includes two (2) hour exclusive use of party area. (Three (3) hour use at Great Waves Waterpark.)  See party details.
One free adult chaperone per guest, 12 and under.
All party packages include plates, napkins, cups and plastic flatware. You may bring additional decorations.
Bags, coolers, and backpacks will be checked prior to entry for food, beverage, and other items.
Most birthday areas have maximum occupancy.  Please be sure to reserve the appropriate size party area for your party.
Payment is due in full by the end of your party for all add-ons and additional guests.
Lifeguards are on duty to respond to aquatic emergencies.  Parent, chaperones- you MUST watch your children.