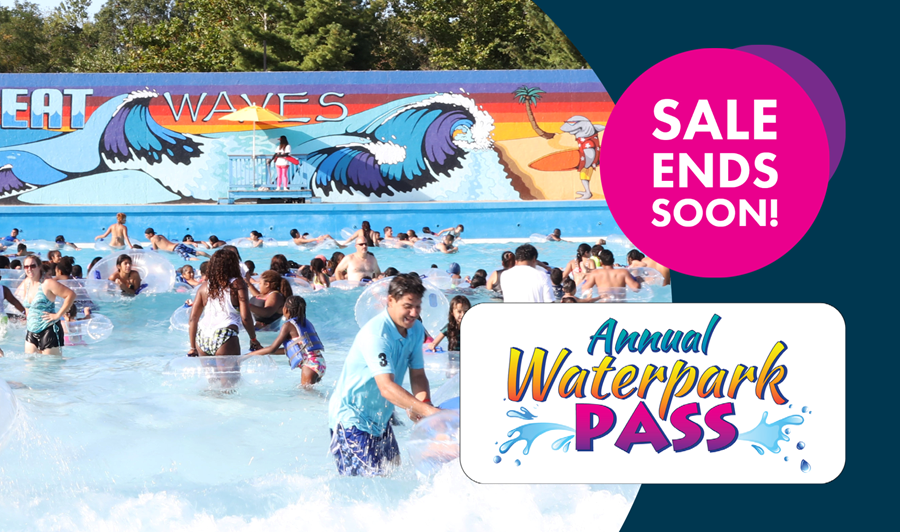 Buy your 2024 Annual Waterpark Pass now and enjoy the rest of the 2023 season for FREE.
For waterpark schedules and hours, visit novawaterparks.com.
Purchase a pass to receive the following

Annual Waterpark Pass perks:
Access to all five NOVA Parks waterparks 

5% 

discount on food, beverage and retail

Early entry to the waterpark all summer long

Bring a Friend for FREE on Tuesdays after 3 p.m.

Special discounts on NOVA Parks attractions and events

Passes valid for one full year from purchase
Purchase a pass for the waterpark you're most likely to attend, then use it at all locations.
Please Note:
If the waterpark has reached capacity, no additional guests, including Annual Waterpark Passholders, will be admitted to the waterpark.

Annual Waterpark Passes are non-transferable.
If you are renewing your pass, click here, log in to your account and follow instructions to renew your passes. If this is your first time logging in, your username is your email address, then select "forgot password." To purchase new passes, choose your home waterpark from the list (many of the incentives included in an annual waterpark pass are delivered to the waterpark designated as your home waterpark. It's best to choose a location that is closest to your residence, place of business, etc.). 
Great Waves Waterpark (Alexandria)
Ocean Dunes Waterpark (Arlington)
Atlantis Waterpark (Centreville)
Pirate's Cove Waterpark (Lorton)
Volcano Island Waterpark (Sterling)
Annual Waterpark Pass Rates*
 
Jurisdiction
Non-Jurisdiction

 

Individual

Senior Individual (age 55 and older)

Family of Two

Family of Three

Family of Four

Family of Five

Family of Six

 

$85.00

$75.00

$155.00

$225.00

$295.00

$365.00

$435.00

 

$95.00

$85.00

$175.00

$255.00

$335.00

$415.00

$495.00
*The daily park entrance fee for non-jurisdiction residents applies at Bull Run and Pohick Bay Regional Parks. Each daily entry fee is $8 per standard passenger vehicle.