Orienteering Course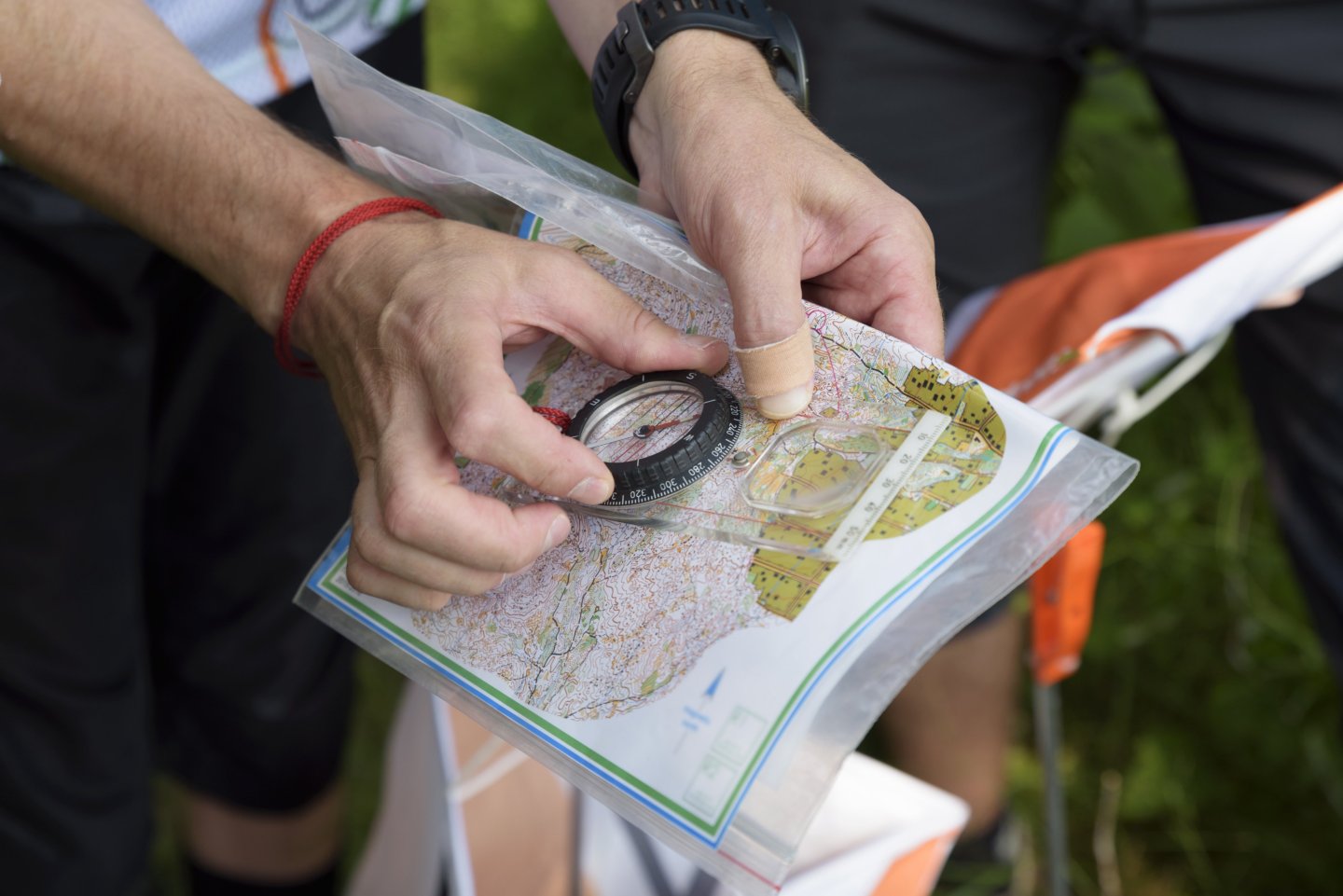 Orienteering is a fun and exciting sport for everyone, regardless of age or experience.  From the start point, participants try to find a series of markers located throughout Fountainhead Regional Park. Participants will use navigation and map reading skills to choose routes — both on and off trail — to find all the markers and get back to the finish point.
Orienteering is typically a racing event, in which participants compete against each other to finish a course in the fastest time.  However, anyone just looking to get out and enjoy the forest at a leisurely pace may also use these courses, as a sort of guided walk.
What courses are available?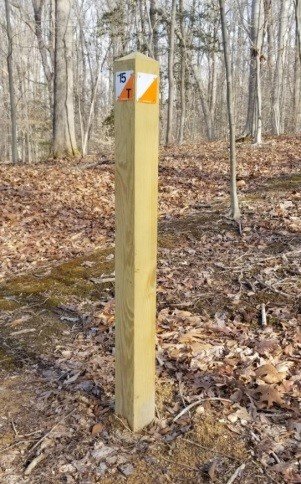 An orienteering course consists of a series of points, known as "controls".  Each control is a fixed location in the forest marked with a post and sign, like the one pictured here.
Courses are rated based on length and overall difficulty.  The beginner courses can be completed while remaining almost exclusively on well-marked trails.  Intermediate courses may also use trails, but more adventurous racers will find opportunities for shortcuts if they leave the trails.  Advanced courses will generally not use trails, and racers will need to rely on more subtle terrain features for navigation.  (Note: a compass is highly recommended for intermediate or advanced courses.)
Orienteering maps show features that don't appear on most styles of map—including boulders, cliffs, pits, knolls, ditches, fences, and thick vegetation in addition to elevation, bodies of water, marshy areas, buildings, roads, and trails.  A convenient one-page legend of map symbols and clue sheet descriptions is available on the 2nd page of each map file.  Beginners may find it helpful to print this and take it with them on the course.
First-time orienteers are recommended to start with the white course.  However, if you're confident in your ability with maps and navigation, the yellow or orange course might be appropriate for your first event.
Courses 
Maps and Clue Sheets

|   | Map | Clue Sheet |
| --- | --- | --- |
| White Course | | |
| Yellow Course | | |
| Orange Course | | |
| Brown Course | | |
| Green Course | | |
| Score-O | | |
 A legend of map and clue sheet symbols is located on the second page of each map file.
How do I play?
Note:  This is just a brief introduction to the basics of orienteering.  For lots more information, including map reading, navigation tips, skills, and strategies, check out the Quantico Orienteering Club's website at www.qocweb.org.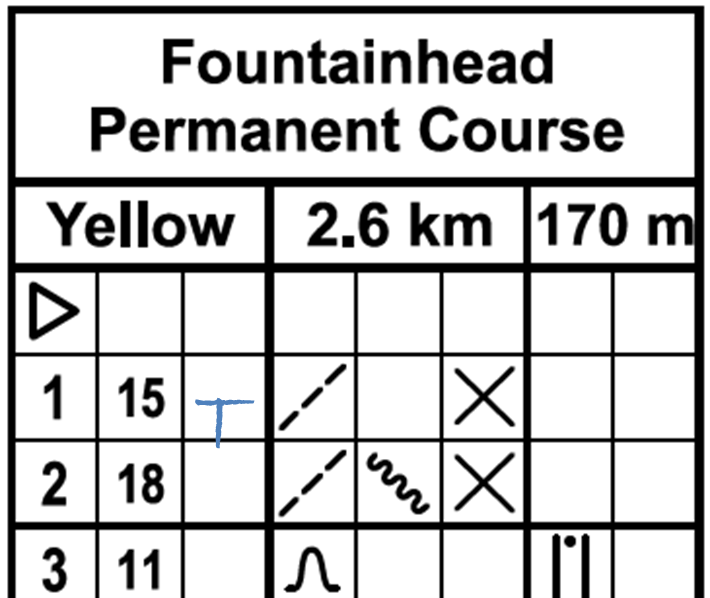 Note:  This is just a brief introduction to the basics of orienteering.  For lots more information, including map reading, navigation tips, skills, and strategies, check out the Quantico Orienteering Club's website at www.qocweb.org.
Begin by choosing which course you would like to race, and then download and print a copy of the course map and clue sheet for each participant. Clue sheets are optional, since they are also printed on the course map, but some racers might prefer to have a separate clue sheet.  
All courses start and finish at the Orienteering start/finish sign, located at the main Fountainhead parking lot, right at the trailhead for the Bull Run – Occoquan Trail.  From the start/finish sign, racers will have to find each point, or "control," in the order they are listed for that course.  If several racers are running the same course, it is best to spread out their starts by a few minutes to avoid racers following each other.
Start your clock!  Each racer will need to orient their map, turning it to align the map's North with actual North.  Next, find the control marked #1 on the map, and make a plan for navigating there from the start.  Going in a straight line isn't always the fastest way…racers need to analyze the terrain, foliage, trails, water features, hills, etc., to determine the best way to go.  Now go find the first control!
As you approach the first control, consult your clue sheet to determine exactly where the control will be located.  In the example shown here, the symbols on line 1 represent "path" and "junction", meaning the control is at a path junction.
When you find the first control, it will be marked with a two-digit number and a single letter.  The number will tell you which post you have found—check your clue sheet to make sure you're at the right point.  (In the example shown, the first control should be labeled "15", the second control should be "18", and so on.)  Record the letter code in the corresponding box on your clue sheet as evidence that you found that control ("T" for the first control in this example).  Now repeat these steps to find all the remaining controls and return to the start/finish sign.  Fastest time from start to finish, while correctly locating all controls, wins the race!
* The Score-O is a special event in which a group of orienteers all compete at the same time.  Racers are given a map with every control in the park, and each control is assigned a point value.  (For this score-O, each control's identifier number is also its point value.)  Racers determine which points—and in which order—they want to collect in the allotted time.  Some may choose to locate many of the closer, easier controls, while others might go longer distances to collect the high-value controls.  The orienteer who gathers the most points wins!  For this score-O course, suggested race duration would be between 1 and 2 hours.
Where else can I go orienteering?

The Quantico Orienteering Club hosts numerous events in the DC – Maryland – Virginia area throughout the year.  Check their website (www.qocweb.org) for a schedule of events.  Their site also has links to several other permanent orienteering courses in our area.