Camping - Family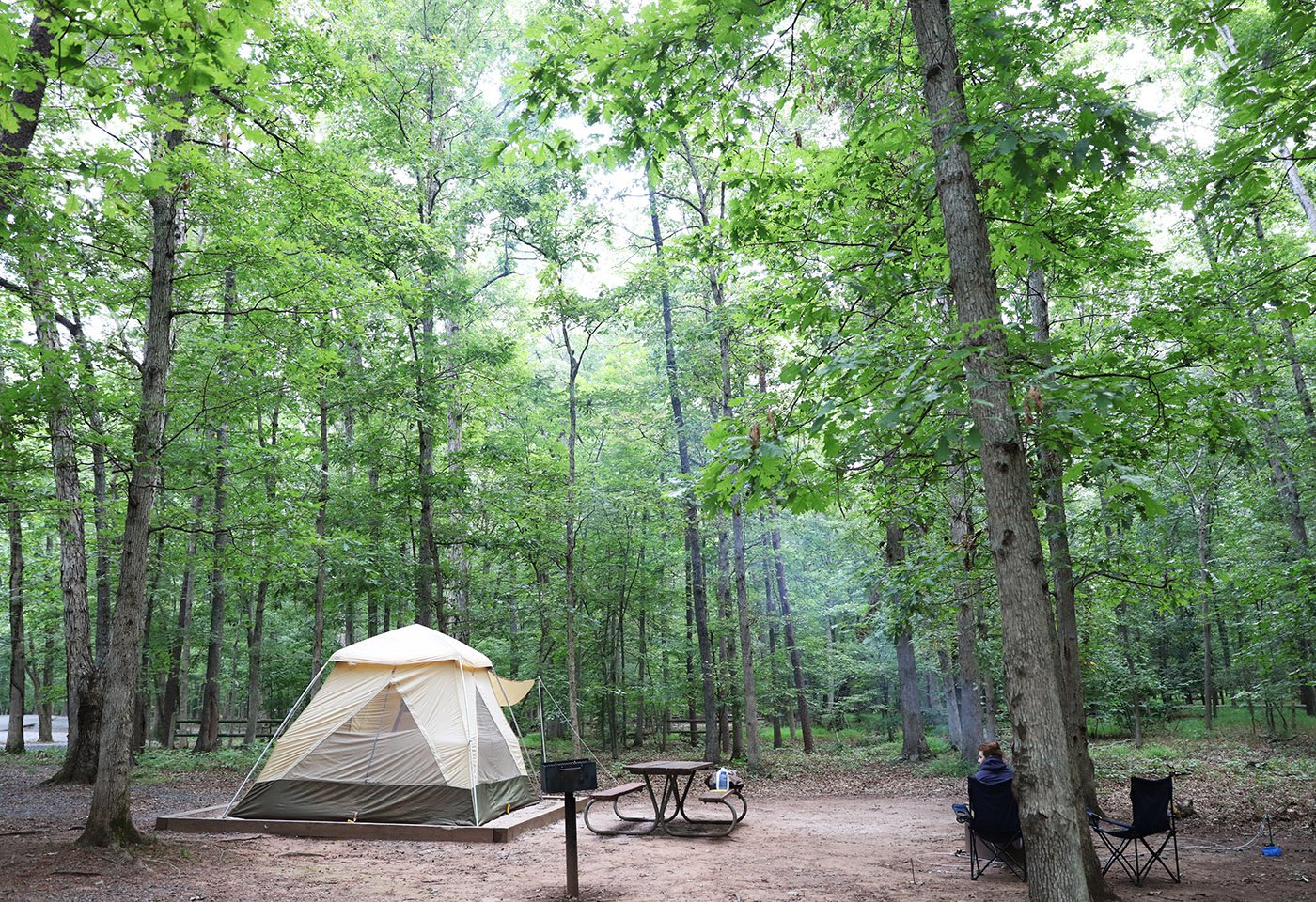 Hike along various trails, take on a few rounds of disc golf or just find a new spot for a family picnic! In the summertime, visitors can also enjoy their day at Atlantis Waterpark! All these great features are within walking distance of the Bull Run campground!
The variety of campsites available at Bull Run Campground are RV sites with electric only service, RV sites with full-service (which includes sewer, water and electric), rustic cabins and group camping areas. All campsites have a charcoal grill, fire ring and picnic table. There are two bathhouses in the campground that offer hot showers, sinks, toilets and laundry facilities. The camp store sells camping supplies, snacks, ice and firewood and is open daily from 8:00 a.m. to 8:00 p.m.
For camping or cabin reservations please call 866-881-0809 or
For customer service please call 866-881-0929.
For specific park-related questions please call 703-631-0550.
Fees
Monday-Thursday
Peak Season
Non-Peak Season

Family Camping

Electric site, 15/30 Amp service

Electric site. 50 Amp service

Electric site, 30 Amp with water

Electric site, 50 Amp with water

Full hook up, 30/50 Amp service

Late check out, 11:00 a.m. - 7:00 p.m.

RV Dump Station Fee (Non-Campers Only)

 

$39.00

$48.00

$48.00

$53.00

$61.00
 

$25.00

$25.00

 

$34.00

$44.00

$39.00

$49.00

$56.00
 

$25.00

$25.00
Friday, Saturday, Holidays & Sundays Prior to a Holiday
Peak Season
Non-Peak Season

Family Camping

Electric site, 15/30 Amp service

Electric site. 50 Amp service

Electric site, 30 Amp with water

Electric site, 50 Amp with water

Full hook up, 30/50 Amp service

 

$43.00

$53.00

$53.00

$58.00

$64.00

 

$33.00

$43.00

$38.00

$48.00

$55.00
*Camping - Peak Season (April through October) Non-Peak Season (November through March)
*A one time $8.00 charge per reservation will be applied for those residing outside of NOVA Parks' Jurisdiction(s)