5 Things You Must Know About Our Easter Egg Hunts Before Coming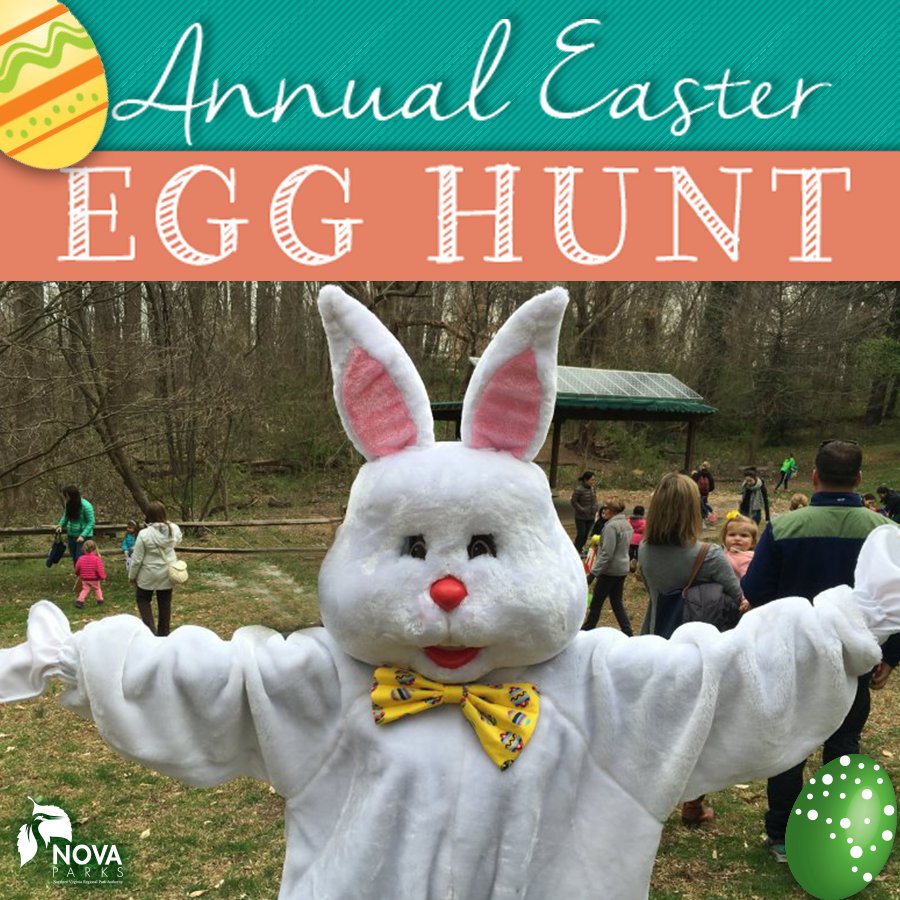 If you have never been to a NOVA Parks Easter Egg Hunt then you'll need to know a few things before coming.
1) THERE ARE A TOTAL OF 10 EASTER EGG HUNTS--9 START AT 11:00AM and 1 Starts at 2:00PM
Below are the locations:
Algonkian (Sterling)- April 14th
Bull Run (Centreville)- April 16th--11:00AM and 2:00PM
Potomac Overlook (Arlington)- April 16th

Meadowlark (Vienna)- April 16th

Brambleton (Ashburn)- April 17th
Temple Hall (Leesburg)- April 17th
Pohick Bay (Lorton)- April 17th
Upton Hill (Arlington)- April 17th
Cameron Run (Alexandria)- April 18th
2) IT'S NOT JUST AN EASTER EGG HUNT 
There will be crafts, games, and most importantly THE EASTER BUNNY at each hunt so don't forget to bring your camera! Share your photos with us so we can share the fun with everyone! #NOVAparks
3) IT'S OPEN TO KIDS AGES 2-11 
Each location will have unique features depending on location and be sure to get there early! Each hunt will start promptly and you won't want to miss out. Here's a schedule of one of the easter egg hunts. Most hunts will end at 12:30pm. 
11:00 a.m.  -  Check in and Games/Crafts
11:30 a.m.  -  Easter Egg Hunt begins
Bull Run Afternoon Easter Egg Hunt
2:00 p.m.  -  Check in and Games/Crafts
2:30 p.m.  -  Easter Egg Hunt begins
4) DON'T FORGET YOUR CAMERA!
Take plenty of pictures with the Easter Bunny and post them to our wall. We want to see how much fun your having!
5) SPOTS ARE LIMITED AND IT'S CHEAPER TO BOOK AHEAD OF TIME 
The pre-registration cost per child is $10 plus a small online service fee. If you decide to wait, it's $15 per child at the door (if there are spots left). Some hunts will sell out so please reserve your spot ahead of time! Accompanying adults are free. Book now! Just search 'Easter'.