Improvements to the W&OD Trail in Falls Church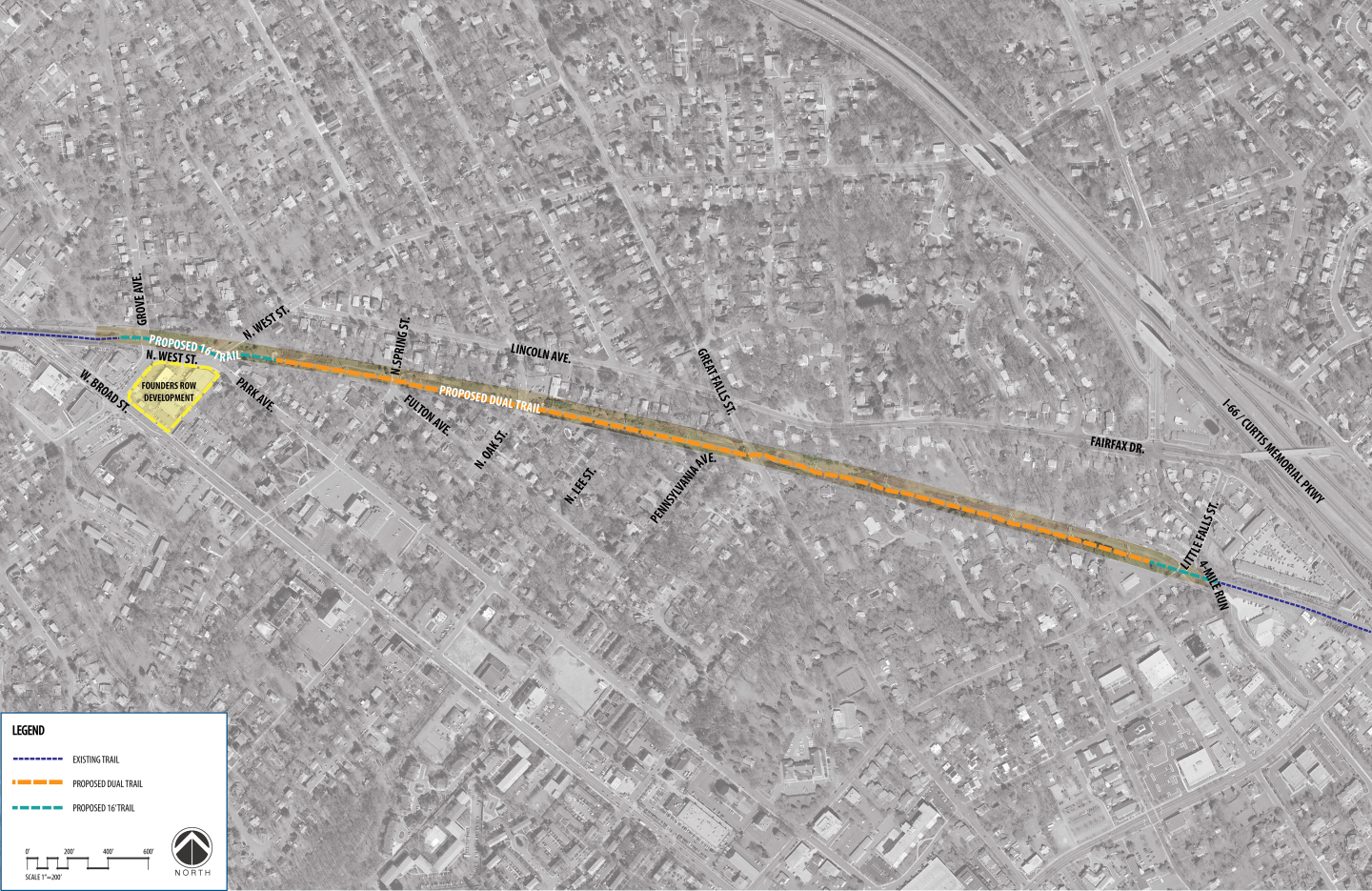 Construction Updates
**10/4/21**
Paving, striping, and stamping of the trail are complete.

Landscaping has been installed, including seeding and straw application in most areas.

Remaining items to be completed include replacement of concrete ramps, re-seeding of certain meadow areas, removal of silt fence and erosion controls, clean up and miscellaneous final close-out work.

Temporary detours will be in effect as necessary to complete concrete ramps and other pavement repairs.
**7/15/21**
Phase 1 of the City's Trammel Branch stormwater improvements are complete.
Dominion's work relocating underground distribution lines is complete.
Trail paving is ongoing, with anticipated completion in August.
When all new asphalt between Grove St. and Little Falls St. has been installed, the contractor will stamp and color the center median (it is applied to the existing asphalt) for the whole trail at one time, followed by striping and signage.
Most of the meadow plantings along the trail are complete. These areas will begin to show the diverse mix of native grasses, perennials, and flowers over the first and second growing season. The remainder of riparian buffers, shrubs, and perennial grasses will be planted in
September (during fall planting season). They have the best chance for survival during this window. This mix of native plants will provide sustainable habitat for the wildlife that has existed along the trail for many years and are naturally effective at preventing invasive species from returning to the area.
Detours will remain in place for the duration of paving work for each section of the trail.
**5/28/2021**
Trail pavement work will begin between N Oak St. and Great Falls St. on 6/1.
Detours will remain in place for the duration of paving work for each section of the trail.
Dominion will be relocating underground distribution lines the week of 5/31 to 6/4 between N Spring St. and N Oak St.
**4/23/2021**
Stormwater pipe and structures have been completed.
Grading and earthwork operations are nearly complete.
Removal of the existing asphalt trail and preparation of new trail subsurface to begin the week of May 3rd. Installation of new trail asphalt will follow as each section is prepared for pavement.
Pavement work will be completed in sections (between street crossings), and the trail will be inaccessible in these areas until new pavement is installed. The process for each trail section is expected to take approximately 4 weeks, and the trail closures and detours will be in place throughout this work, including weekends as required.
Trammel Branch stormwater pipe installation by the City of Falls Church is expected to be completed in June.
Paving of the trail section between Great Falls St. and Little Falls St. will be completed once the new Trammel Branch storm pipe is in place.
Site stabilization and landscape planting will be done after site work is complete.
The Dual Trails project is expected to be complete by August, 2021. This schedule is subject to change based on weather and other factors.
**11/24/2020**
Site controls have been installed
Clearing and removals have been completed
Earthwork cut and fill operations between Great Falls St. and Little Falls St. are ongoing, to be followed by seeding and slope stabilization
Installation of stormwater pipe will begin the week of December 7th
Miscellaneous utility repairs are being completed by Dominion between Great Falls St. and Little Falls St.
Temporary detours will continue as required for public safety
**9/25/2020**
Complete installation of Erosion and Sediment Controls and Tree Protection fencing (9/25)
Clearing and removing any encroachments will begin the week of Monday 9/28
Trail Detours will begin the week of Monday 9/28 **
Staking and installation of storm drains and stormwater infrastructure will begin the week of 10/5
**8/27/20**
On 8/27 and 8/28, inlet protections and silt fence in the RPA will be installed; City staff will inspect these before the weekend
Survey and staking of Limits of Disturbance will begin Wednesday (9/2) of next week
Installation of Erosion and Sediment Controls, and Tree Protection fencing will begin on or near Tuesday 9/8 and should take approximately two weeks
Following City approval of site controls, clearing and demolition will begin on or near Monday 9/21
Subsequent construction operations will include installation of storm drains and stormwater infrastructure, grading and earthwork, excavation and installation of dry swales and other stormwater facilities, installation of new asphalt trail, fine grading, soil stabilization, and landscaping
*Construction schedule will be updated and additional details provided as more information becomes available
**At various times throughout the project, detours will be set up to direct trail users safely around portions of the trail while under construction.  Detours will be implemented in phases to allow construction operations to be completed while minimizing impacts to trail traffic.  Please follow all posted detour and construction signage, and look for updates about detours on our W&OD website and social media pages.
***All dates and durations are approximate and subject to change depending on weather and other factors
If you would like to recieve email updates on the progress of the Falls Church seciton of the Dual Trails Project please click the link and register.
Falls Church Dual Trails Email Registration Link
In The News:
CREATING AN UPDATED TRAIL FOR THE COMMUNITY
The W&OD (formally, the Washington and Old Dominion Railroad Regional Park) is one of the best-known recreational and commuting trails in Northern Virginia. The park stretches 45 miles from Arlington to Purcellville and is typically 100 feet wide. As Northern Virginia's population has grown, and with the increasing popularity of outdoor recreation and bicycle commuting, the trail has become more crowded – especially in towns and urban areas, and especially during peak times such as rush hour and weekends.
Recognizing this crowding, NOVA Parks, which owns and manages the trail, commissioned a study to gauge the level of service provided and examine solutions, if needed. The study (completed in 2017, linked here) showed that the shared-use asphalt trail through Falls Church is no longer serving its users well, and that creating side-by-side trails for bicyclists and pedestrians will alleviate crowding and provide sufficient future capacity for the City.
ABOUT THE PROJECT
The dual trails project will serve two purposes: expand the W&OD trail capacity and improve trail safety for multimodal transportation options that aim to keep up with regional travel demand and fulfill the desired outcomes of the City's Master and Comprehensive Plans. The dual trails project will add a parallel paved pedestrian path to the shared use trail that currently exists.  
This project will improve levels of service and encourage non-motorized traffic in the extensive Northern Virginia non-motorized network of which it's a part.  The dual trails will increase usage of the W&OD trail and increase patronage at nearby employment destinations, commercial districts, and residential neighborhoods, in adherence with the City's Regional Activity Center designation.
This project will be regraded to accommodate the new trail and aims to improve treatment of stormwater, replant disturbed areas with native/adaptive species, and explore potential lighting solutions.
Elevate the Experience for all Multi-modal Trail Users
In Falls Church, the shared use path is reaching its functional capacity for bicyclists and there are frequent conflicts between bicyclists and pedestrians. This competition for space will worsen as volumes increase.  The parallel trails will provide greater capacity and encourage use by people who may otherwise avoid the trail due to overcrowding.
Coordinate Efforts  
NOVA Parks is working with City of Falls Church staff to coordinate the dual trails with the City's plans to improve six at-grade street crossings of the W&OD trail in the City.  Two of the six at-grade street/trail crossings are being implemented as a part of the Founders Row mixed-use development at Grove and North West Streets. 
The trail bridge over Route 29 is currently under construction and is designed to provide a safer crossing in place of the busy at-grade intersection. Construction is slated to be completed in fall of 2020.
PUBLIC PROCESS
June 17, 2019       30% Design Plans were Submitted to the City
July 1, 2019           Planning Commission Work Session
Nov. 1, 2019          60% Site Plan Submission
Dec. 16, 2019        Planning Commission Work Session
March 11, 2020      Architectural Advisory Board Meeting
April 20, 2020 7:30 PM   Public Comment Deadline ahead of Administrative Action

June 10, 2020         Administrative Action – Site Plan Approved

July 14, 2020           Construction Bids Due
The 100% site plan application was submitted on March 9, 2020 for staff review.  Public Comments are being accepted until 7:30 PM on April 20, 2020.  Administrative Action is scheduled for April 27, 2020.  Construction is slated to commence in Summer 2020.  Detour updates will be posted on the NOVA Parks website and W&OD Trail Facebook page.
For additional information about the project, and directions for submitting public comment to the City of Falls Church staff, please visit the following website:  https://www.fallschurchva.gov/2041/WOD-Dual-Trails
FUNDING
Funding for the project is provided by a Northern Virginia Transportation Authority (NVTA) regional revenues, and NOVA Parks capital project funds. The Falls Church City Council fully supported NOVA Parks' efforts to secure these grant funding sources with a resolution of support in 2018.
Follow this page for updates on the permitting and construction of the W&OD Dual Trails in Falls Church.
FY2020-2025 NVTA Six Year Program
NVTA Funding for the next phase of Dual Trails in Arlington County is currently under consideration as part of the FY2020-2025 Six Year Program. 
Public comment period: The public is invited to learn more about and comment on NVTA's candidate projects during the public comment period, occurring now through 11:59 p.m. May 24, 2020. The project list, individual project description forms, maps and detailed analyses are available at: https://thenovaauthority.org/fy2024-2025-six-year-program-update/. Public input is an important part of the Six Year Program process. We welcome your feedback and will review all comments provided through the comment form or via email: SYPcomment@TheNoVaAuthority.org. If you do not have an email address, please mail your comments to: NVTA, 3040 Williams Drive, Suite 200, Fairfax, VA 22031.