Dominion Energy Reconductoring Project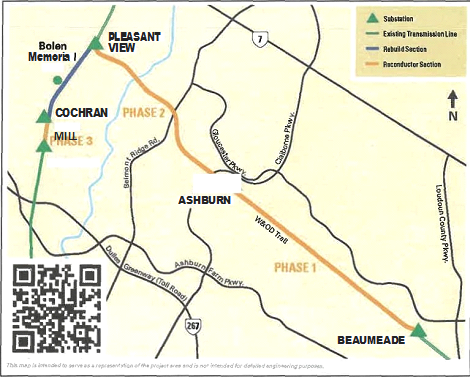 Dominion Energy is preparing to replace wires, a process known as reconductoring, on approximately eight miles of an existing transmission line near your property in Loudoun County between our Belmont Substation near Gant Lane and Beaumeade Substation on Smith Switch Road.
About five miles of the project will occur along the W&OD Trail. Work will be similar to our Beaumeade Substation to Pleasant View Substation Reconductor Project completed earlier this year. Since the two transmission lines share the same structures, our crews can only work on one line at a time. Therefore, we will return to your neighborhood to work on the other circuit along the W&OD Trail between Smith Switch Road and Cochran Mill Road.
This project will be completed in three phases between August 2022 and December 2023. Phases 1 and 2 will impact the W&OD Trail, including temporary Virginia Department of Transportation (VDOT)-approved detours for trail users. The Phase 1 detour is pending VDOT approval.
Additional information will be provided once the details are finalized.
Phase 1 — Beaumeade to Ashburn substations (W&OD Trail from Loudoun County Parkway to Claiborne Parkway)  August — December 2022
Construction activities will begin in August 2022. Work will start on the W&OD Trail east of Smith Switch Road near our Beaumeade Substation and end at Claiborne Parkway at our Ashburn Substation.

Trail traffic may be temporarily stopped for 15-minute

intervals

Trail users may be directed to use the gravel

path

The gravel path may be closed at

times

Equipment will be staged along the transmission line

corridor

The W&OD Trail will be closed from Loudoun County Parkway to Claiborne Parkway for approximately five days in October 2022 (currently planned for Oct. 17 - 21, subject to change). Both paved and gravel paths will be closed and patrolled by law

enforcement.

Students who use the W&OD Trail to access Farmwell Station Middle and Dominion Trail Elementary Schools will be permitted to cross at Tippecanoe Terrace during limited hours before and after school

A four-mile detour (pending VDOT approval) will direct trail users from Loudoun County Parkway to Claiborne Parkway
Phase 2 work between our Ashburn and Cochran Mill substations is scheduled to begin in January 2023.